A cruise with 28 deaths and more than 600 victims of COVID-19; the Federal Court has made it's decision.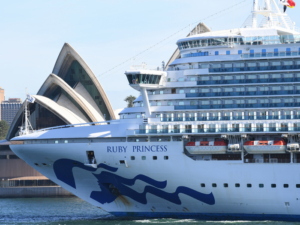 In March 2020, the Ruby Princess Ship set for departure carrying "a significant risk of a coronavirus outbreak, with possible disastrous consequences, and yet they proceeded regardless", as said by Justice Stewart of the Federal Court.
Despite COVID-19 outbreaks on two previous ships, Carnival Australia confirmed to passengers their reassured safety prior to departure. Later found to be a misleading representation of reasonable safety.
The lead applicant, Ms Susan Karpik, and also one of many applicants in the class action lawsuit against the cruise, suffered psychiatric injuries as her husband was hospitalised for COVID-19, including having to be placed into an induced coma. Ms Karpik sought damages in the sum of $360,000 for personal injury, distress, and disappointment. Unfortunately, the lead applicant was only able to recover $4,400, which had already been covered by a refund provided by the cruise ship. Judge Stewart reasoned that her case was below the claimable threshold as she did not satisfy suffering from long COVID.
Nonetheless, the class action has been regarded as the first successful cruise ship class action as the court is now to answer to each passenger and their proof of individual damages. This would include the tragic injury suffered by Ms Karpik's husband, who is likely to recover damages due to the substantial claim.
Ultimately, Carnival Australia was found negligent due to misleading passengers with claims of reasonable safety, not providing a "happy and relaxing holiday" as advertised, and breaching their duty of care to every passenger's personal health and safety.
It is predicted that Carnival Australia may settle all claims outside of Court, given the expected lengthy litigation and legal findings behind each claim.
In the meantime, the matter has been listed for case management hearing an Final Order on 10 November 2023.
If you or someone you know wish to discuss this issue further, then please do not hesitate to contact us on 02 8999 9809.
Freedman & Gopalan Solicitors
Average rating:
0 reviews